"Excellent Science" can only be achieved by "Excellent Scientists". It is our responsibility to encourage our students to become excellent scientists. To ensure success, we offer a wealth of programs and resources for our young scientists.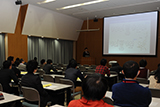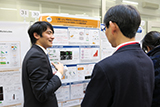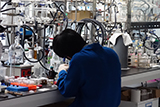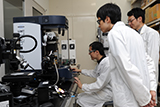 Education in the Graduate Schools
Every laboratory is affiliated with one of the Graduate Schools and contributes to education. Currently, 13 laboratories are affiliated with the Graduate School of Science, 9 with Engineering, 2 with Agriculture, 4 with Pharmaceutical Sciences, 1 with Medicine and 1 with Informatics.
Training of Young Researchers
Details of Researchers at ICR (without Faculties and Graduate Students)

 
Post-doctoral Research Fellows
39
 
(Japanese Researchers (PD)
26)
 
(Foreign Researchers (PD)
8)
 
(Researchers from Corporations (private)
5)
Research Students and Research Fellows
9
 
Doctoral and Master's Degrees
Doctoral Degrees (1 Jan – 31 Dec, 2020)

Science
Engineering
Agriculture
Pharmaceutical Sc.
Medicine
Informatics
Total
9
4
3
5
2
0
23
 
Master's Degrees (1 Apr 2020 – 31 Mar 2021)

Graduate School of
Science
Engineering
Agriculture
Pharmaceutical Sc.
Medicine
Informatics
Total
21
18
6
7
1
0
53
 
Graduate Students and Their Origins
Graduate School
Course
Total
 
Science
MC
49
 
DC
31
 
Engineering
MC
40
 
DC
16
 
Agriculture
MC
10
 
DC
3
 
Pharmaceutical Sc.
MC
11
 
DC
5
 
Medicine
MC
3
 
DC
6
 
Informatics
MC
1
 
DC
8
 
 
 
Sub-total
MC
114
 
DC
69
 
 
 
Total
 
183
 
Researchers and Graduate Students from Abroad
Training Programs for Young Researchers
Annual Schedule (from April, 2021 to March, 2022)

April
Orientation for New Graduate Students
May
Spring Sports Tournaments (HEKISUIKAI)*
June
Training on Safety and Health for New Graduate Students
July
Summer Party (HEKISUIKAI)*
September
Autumn Sports Tournaments (HEKISUIKAI)
October
The 28th Public Lectures
December
The 121th ICR Annual Symposium
The 26th ICR Award for Young Scientists and ICR Award for Graduate Students
February
Symposium of Graduate Students

*The Event has been canceled due to coronavirus concerns.

These Event remain subject to cancellation or change depending on the status of COVID-19 infections going forward.