Since 1993, the Institute for Chemical Research (ICR) has organized public lectures in plain language. In addition to sharing fundamental knowledge and updates in the areas that the ICR conducts research, these lectures promote communication with local communities as well as collaborations with society. The ICR also regularly organizes lectures, open house sessions, and open campus events for high school students.
Program Calendar
Chemical Research for High School Students
Every summer, ICR provides courses for high school students to experience the joy of "Chemical Research". More than 70 students participate in chemical experiments and operations of huge research equipment. Scientists and graduate students provide unique and enjoyable programs.
Photos; The 20th Chemical Research for High School Students (July 29, 2017)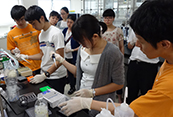 Open Campus in Uji, Kyoto University
4 institutes and laboratories located in the Uji Campus hold this event to showcase their advanced scientific research. Some laboratories from ICR participate as Open Laboratories, where they demonstrate their research activities and experiments.
Public Lectures
Public Lectures are held on the same day as the "Open Campus in Uji". This is a fruitful time for ICR to interact with the community. The professors introduce their latest research and the frontier of their science. These lectures are quite popular as the audience enjoys asking questions directly to the lecturers.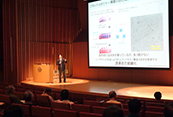 ICR Annual Symposium
Many young scientists and graduate students give oral and poster presentations about their latest research progresses. In addition, ICR Award for Young Scientists and ICR Award for Graduate Students are presented to excellent studies.